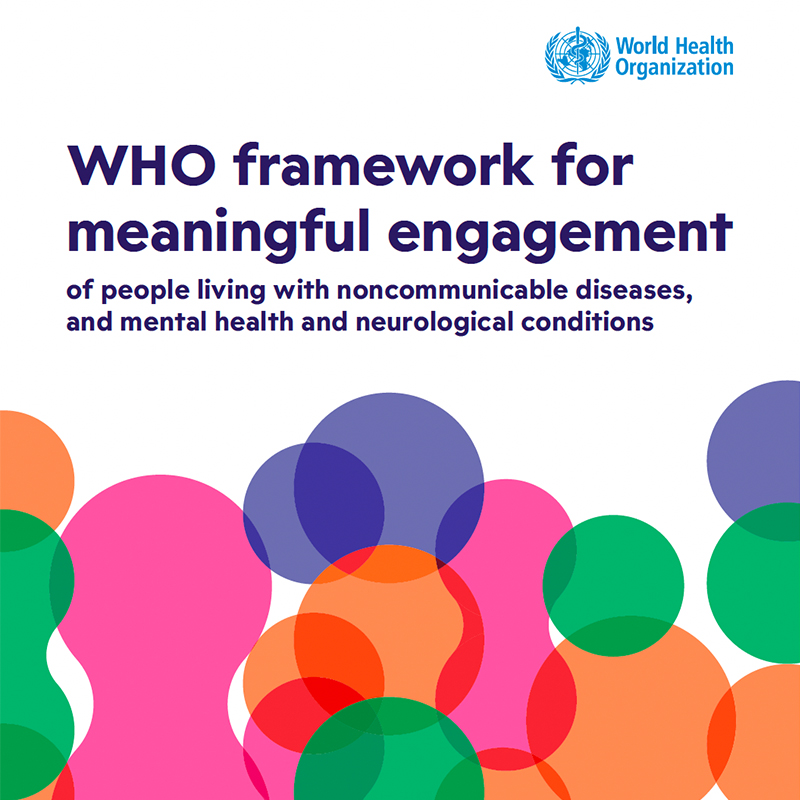 Last month, the World Health Organization (WHO) has released a new framework for the meaningful engagement of people living with noncommunicable diseases (NCDs), mental health, and neurological conditions.
The WHO framework for meaningful engagement aims to use a rights-based approach to address health inequities and achieve health for all. The framework outlines the vision and pathway to involving individuals with lived experience in co-creating relevant policies, programmes and services, i.e. what matters to them, and sees meaningful engagement as a way to improve health outcomes.
Despite the recent promising efforts in this direction, there are still challenges to overcome. The text provided highlights that there is limited evidence about whether current engagement of individuals with lived experience represents best practice. Evidence is also lacking on where meaningful engagement is being implemented, particularly in low- and middle-income countries.
To address these challenges, the WHO framework for meaningful engagement represents an important step towards improving health outcomes for people living with NCDs, mental health, and neurological conditions. By incorporating the perspectives and experiences of patients and citizens, healthcare systems can become more responsive and ultimately improve the health and quality of life of those living with NCDs, mental health, and neurological conditions.
The framework acknowledges that "the lived experience of individuals in different geographical, cultural, political, economic and social contexts is invaluable for understanding barriers, identifying solutions, and planning policies, programmes and services, while aiding accountability and governance nationally and regionally". It also outlines practical principles and enablers for fulfilling this vision and indicates a route for actions to be undertaken by both the WHO and its Member States.
The Global Patient-Reported Outcomes for MS (PROMS) Initiative is indeed a keystone example of an initiative that aims to incorporate the perspectives, preferences, and experiences of patients into healthcare research and delivery. Its mission and governance approach – including the Engagement Coordination Team – fully align with the WHO framework principles and its strive to avoid either under- or over-representation of specific population groups by implementing measures aimed to ensure inclusivity and intersectionality.
The WHO is committed to addressing the theoretical, scientific, and implementation gaps in meaningful engagement and other participatory approaches and will support the implementation phase of the framework with additional tools and resources in a phased approach. A number of derivative products will help tackle the operationalization barriers and achieve the vision of the framework tracing a progressive path to institutionalization of engagement.
Also, an annual WHO symposium on people living with NCDs, and mental health and neurological conditionswill advance meaningful engagement and greater involvement of individuals with lived experience in the lead up to the fourth UN high-level meeting on NCDs in 2025.